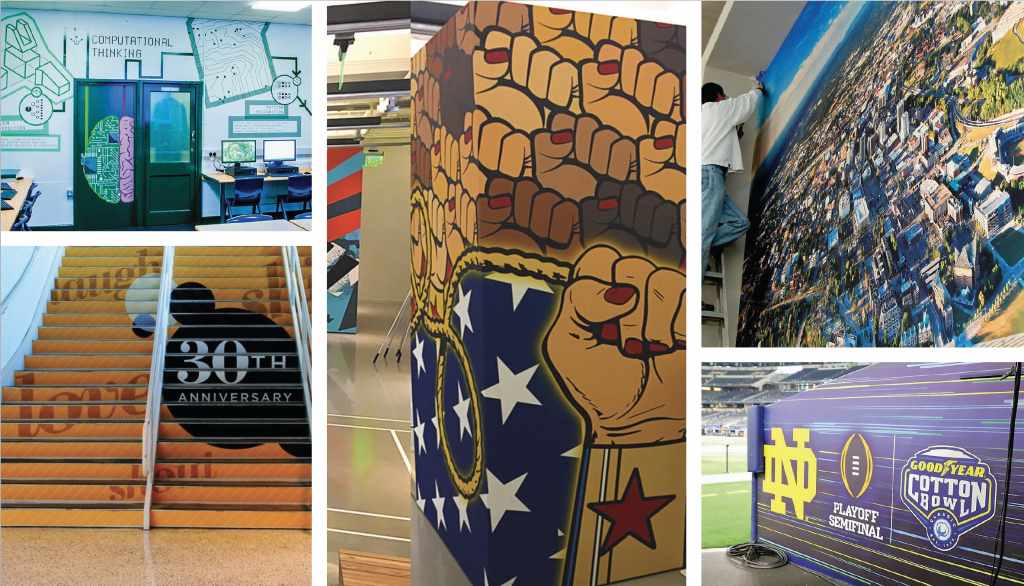 Photo Tex™ is a great product, for both residential and corporate use. It's extremely easy to use and can be applied to any surface.
Some main benefits include:
No residue: When removing Photo Tex™, you won't damage your walls and it never leaves behind any residue.
Extremely durable: Photo Tex™ can withstand heat, cold, wind and water. Through any weather or temperature change, Photo Tex™ doesn't shrink, curl, rip or wrinkle.
No air bubbles, no wrinkles: Photo Tex™ was designed with awesome technology that makes it resistant to air bubbles and wrinkles.
Re-usable: If you choose to redecorate or redesign a space, Photo Tex™ can be removed and reapplied over and over again. When you want Photo Tex to stick, it does, when you need to move it, it will! 100 times over!
Odorless, eco-friendly, and non-toxic: PhotoTex™ is a green material. It is non-toxic, phthalate-free, and is designed to stick to all low and no-VOC paints. At TGI, PhotoTex™ is printed on our HP Latex series presses, which all use eco-friendly, water-based industrial inks.
Office spaces, waiting rooms, hotels, schools and hospitals can use Photo Tex™ to create effective and fun wall signs and decor. Updating outdated material or sprucing up a wall can be done with a quick peel and stick!
If you are interested in using PhotoTex™ for your business, contact our Wide Format Product Specialist, Dan Long, via email: Dlong@tginc.com
To see more uses of PhotoTex™ and to get some inspiration for your marketing campaigns, check out our PhotoTex Board on Pinterest: https://www.pinterest.com/onlyTGI/phototex/