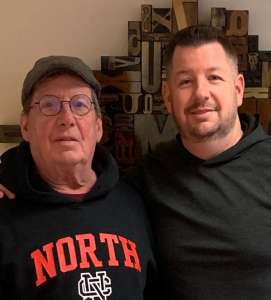 At TGI, we work hard to meet our customers needs and provide innovative ways to help companies express themselves. TGI is successful helping our customers because we have a great team of employees that mesh well and come together to hash out the best processes to meet each individual company's needs. Because TGI is a small business, we all know each other very well and we feel like we are part of a family. In some cases, we really are family. Ron and Matt Marcen, father and son, have been working together at TGI for almost 26 years.
Ron, who has over 45 years as a Quality Control and Estimating Manager under his belt, first enlisted Matt as a temporary worker to help TGI through a move. Matt's hard work ethic was quickly noticed. He was asked to stay on full time and became an integral member of TGI, first working in Bindery and then moving on to Director of Client Services.
Ron and Matt, not only enjoy working together but they work better because of their relationship. They enjoy bouncing ideas off of each other and finding the best solutions, even if they don't always agree. Matt relies on his dad's experience and intelligence when dealing with projects both inside and outside of the office. They value being able to spend their time together. "Getting to see and interact with your Dad everyday is a plus," Matt said, "not many people get to do that." The feeling is definitely mutual. Ron is very proud of his son and has enjoyed watching him grow into a confident and excellent manager. They have found a way to balance their work and home lives by leaving any delicate or combative work issues at the office.
Working together, regardless if you are related, isn't always the easiest task for most people. At TGI, we value our ability to use our differences of opinions and creative thought processes to help our customers be successful. We work together like a big family.